Israeli Prime Minister Benjamin Netanyahu wants to persuade President Donald Trump to impose tough new sanctions on Iran for threatening Israel with ballistic missiles and bankrolling terrorism, a close adviser said.
The restrictions would aim to inflict damage in the same way that blocking money transfers did before Iran signed the 2015 agreement to curtail its nuclear program, said Michael Oren, a deputy cabinet minister to Netanyahu and his former ambassador to the U.S. The Israeli leader was among the most outspoken opponents of the deal and relishes the prospect of renewed confrontation if Iran violates its terms, he said.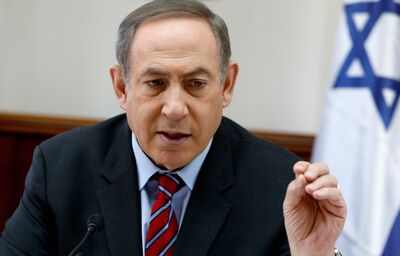 "That's a 'Dirty Harry' moment," Oren said in an interview on Thursday in Tel Aviv, referring to the brinkmanship adopted by Clint Eastwood's detective in the 1971 movie. "You have to exact a price for Iranian behavior."
Trump is flying to Israel on May 22 from Saudi Arabia, which is also pushing the president to get tough on Iran. Trump has described the nuclear deal as a "disaster" and this week imposed new sanctions on Iran over its missile program — ahead of the country's presidential election on Friday.
Fresh Start
For Netanyahu, Trump's visit is a chance to reset ties with the U.S. after relations deteriorated under former President Barack Obama. Netanyahu made a passionate speech to a joint meeting of the U.S. Congress in March 2015 to try to derail the Iran nuclear deal that Obama supported.
Since the nuclear deal, formally the Joint Comprehensive Plan of Action, was agreed in July 2015, Iran has repeatedly tested ballistic missiles — some, Netanyahu has said, inscribed with "Israel must be wiped out" in Hebrew — arguing that conventional weapons aren't covered by the pact. Iran also supports groups that have attacked Israel, including Hezbollah in Lebanon and Hamas in the Gaza Strip.
Besides Iran, Netanyahu also wants Trump's assistance in reviving Israeli-Palestinian peace efforts — but without causing the collapse of his fractious coalition government, Oren said. Persuading Saudi Arabia to deal openly with Israel is also on Netanyahu's wish list for Trump, he said, as is U.S. military support to buffer Israel from the fighting in neighboring Syria.
Trump has said he wants to strike "the ultimate deal" to end the Israeli-Palestinian conflict. If he can "bring home negotiations with the Palestinians without preconditions, if he can bring in some type of regional component — maybe an announcement date for a regional summit — that would be what he would call 'huge,"' Oren said.